Enjoy a Peaceful Stay in One of Our King Suites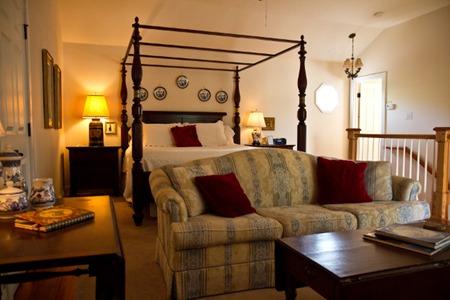 LUXURY KING Touted by many as the finest bed and breakfast king accommodation on the North Shore, The Orleans has a PRIVATE ENTRANCE, private balcony porch with ceiling fan, beautiful king four poster bed, 6' JETTED TUB with chandelier, TEAC music with Alarm iPod / CD, a fireplace with TV above, dedicated b and b A/C and heat, three ceiling fans and beautiful re-milled heart pine floors. Do you need some "me time"? Come to Blue Willow Bed and Breakfast bed and breakfast - hotel.
Breakfast Nook with built-in refrigerator, wet bar, microwave, dining table, antique cupboard stocked with goodies. A continental Plus Breakfast in the suite!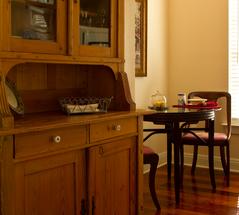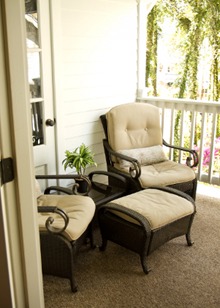 Balcony Porch is the perfect place to relax under the ceiling fan and enjoy the view of the front gardens. Thinking about work, the kids, or troubles is strictly forbidden in your private lounge space.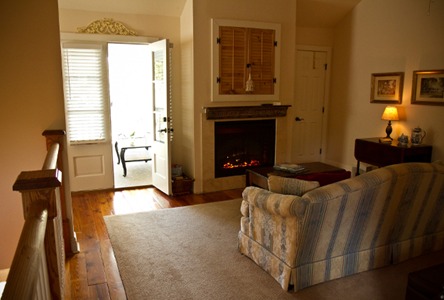 The living area is a cozy space designed for personal comfort and entertainment. Behind those custom made cypress shutter doors is your TV. Next to the bed is your TEAC iPod / CD player that allows you to listen to the CD's we have placed there or you can listen to your own music from your iPhone.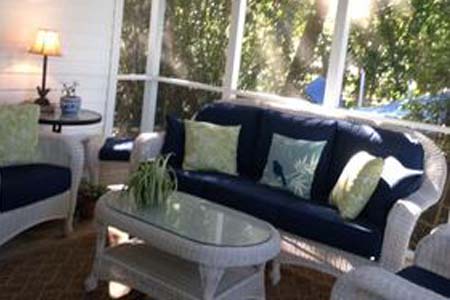 COMFORTS OF HOME The Cottage Suite has it all for our guests that would like to spread out a little. It has a PRIVATE ENTRANCE through the cozy screen porch. The bedroom has a beautiful iron king bed with a firm mattress, TV and TEAC music CD / iPod Alarm. Staying for awhile? You can even do the travel wash. It has a fireplace, dedicated A/C and heat, full kitchen and three ceiling fans.
Elegantly furnished, screen porch, is your special place to get away. No worries here.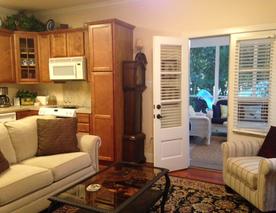 The Cottage kitchen has it all. If you come for a getaway we will take care of it for you. For an extended stay, you have the benefits of a full kitchen.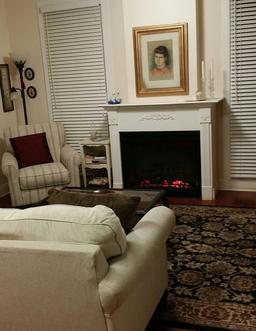 The living room is warm and cozy with TV fireplace and comfortable new furniture.